I went out to our alternative High School, New Hope Academy, last week to help the teachers come up with a functional way to begin their Pirate Pantry. I was looking at their little space and we were brainstorming about how to make it work for them and not overwhelm the area with clothing and food donations. As we talked about how this could be most useful for the students there, I learned that they had 29 graduates this year, their inaugural year! I was so impressed!! Out of 48 students who started the program, 29 are graduating. And some of the others will continue with the program next year. Those are GREAT STATS!!
I stood there thinking about the growing stack of graduation announcements on our kitchen table at home. I've been trying to figure out how to honor each graduate appropriately, while not contributing to their abundance of monogrammed towels and Starbucks cards, and not spending our entire monthly grocery budget on gifts. It's tricky. Most of the grads we know are very fortunate and don't really "need" anything.
But these Hope Academy grads are different.
They've been through some serious struggles.
I suddenly found myself asking "What do these graduates get for graduation? Do they do announcements? Do people give them gifts?"
Some do, others don't.
Their circumstances don't support a traditional graduation process.
So I said, "They deserve a gift. GIFTS. They need to be celebrated!" And one of their teachers said "I agree." I could see in her face that she deeply desires to celebrate them. They've taken pictures of each graduate and hung them on the wall in a banner. It's beautiful. She often spends her own money to put tools in their hands to make them successful. Like a $160 calculator that they share. She bought that. I'm married to a teacher. $160 is about 3 days wages.
She's invested. She's all in.
These are the teachers I love to help. These are the teachers who need more tools in their hands to love these students.
I know, I know.
"Alternative High School" begs the question - WHO are these students and HOW did they get there?
I'd love to tell you.
I wish I could tell you their stories.
I think this answers most of the obvious questions. And I took it straight from their brochure. Here's who qualifies to attend New Hope Academy: "Student is not experiencing discipline problems in the school where he or she is currently enrolled. Student may have special or unique circumstances that make their enrollment in an alternative school more necessary: Student is pregnant and has children. Student is employed or needs to work to support his or her family. Student is struggling to complete a traditional high school program."
But, like I said, their stories express a whole other version of how they "qualify." Life just doesn't work the way we want it to work. And sometimes there's an alternative plan that helps us stay the course. Just on a different path. That's New Hope Academy.
I pray that as they learn to see their graduation as a huge TRIUMPH in their lives, they'll tell their stories. Bold and proud and full of encouragement from their community that cheered them along in the process.
I went home that night and prayerfully decided to go for it. I know May is an insane month, and people are so tired of giving, giving, giving, and I am tired of being "that girl" who is always asking my community for more. But I did it anyway. I asked for 29 $10 gift cards to two different restaurants in the area. So 58 total. I asked a friend with Chick-Fil-A if they could do something. They did. They donated 29 CFA gift cards. After seeing the post, another friend wanted to get 29 copies of The Alchemist to donate. It's an inspirational book that, hopefully, will help them dream. She rounded up friends to order the books on Amazon. I created the Sign Up genius for the gift cards and within 7 days it was complete.
Last night I put the gift bags together. Compared to what most graduates get, it's not much. It's 3 meals "out" (which is a big deal for some of them), the book, and a red kraft bag from Dollar Tree that says "Congrats, GRAD!" But it's something. It's our loaves and fishes that I gathered from willing hands and hearts to give to these students. One of their teachers will put the gift into their hands tonight after they walk across the stage.
They deserve it.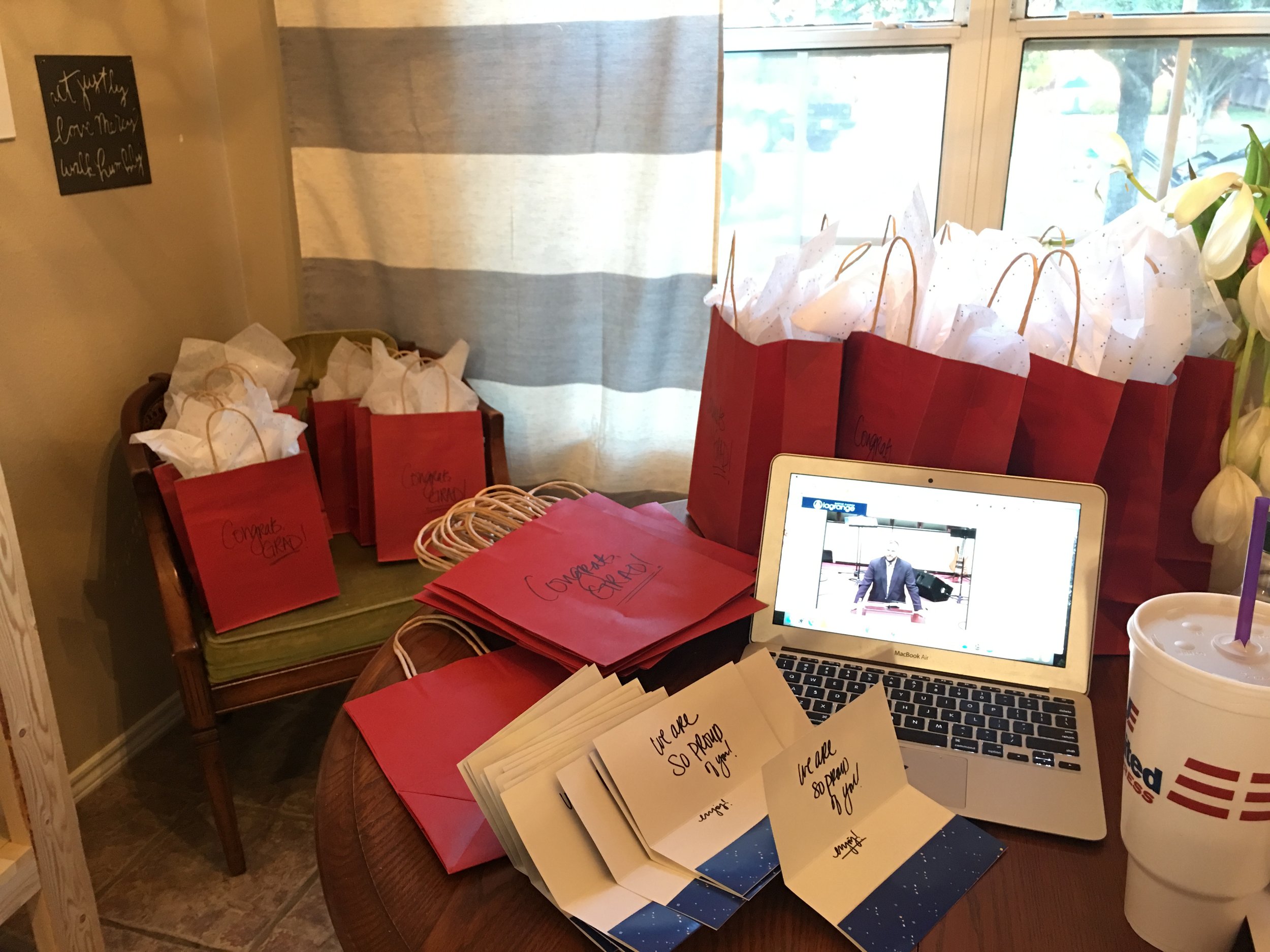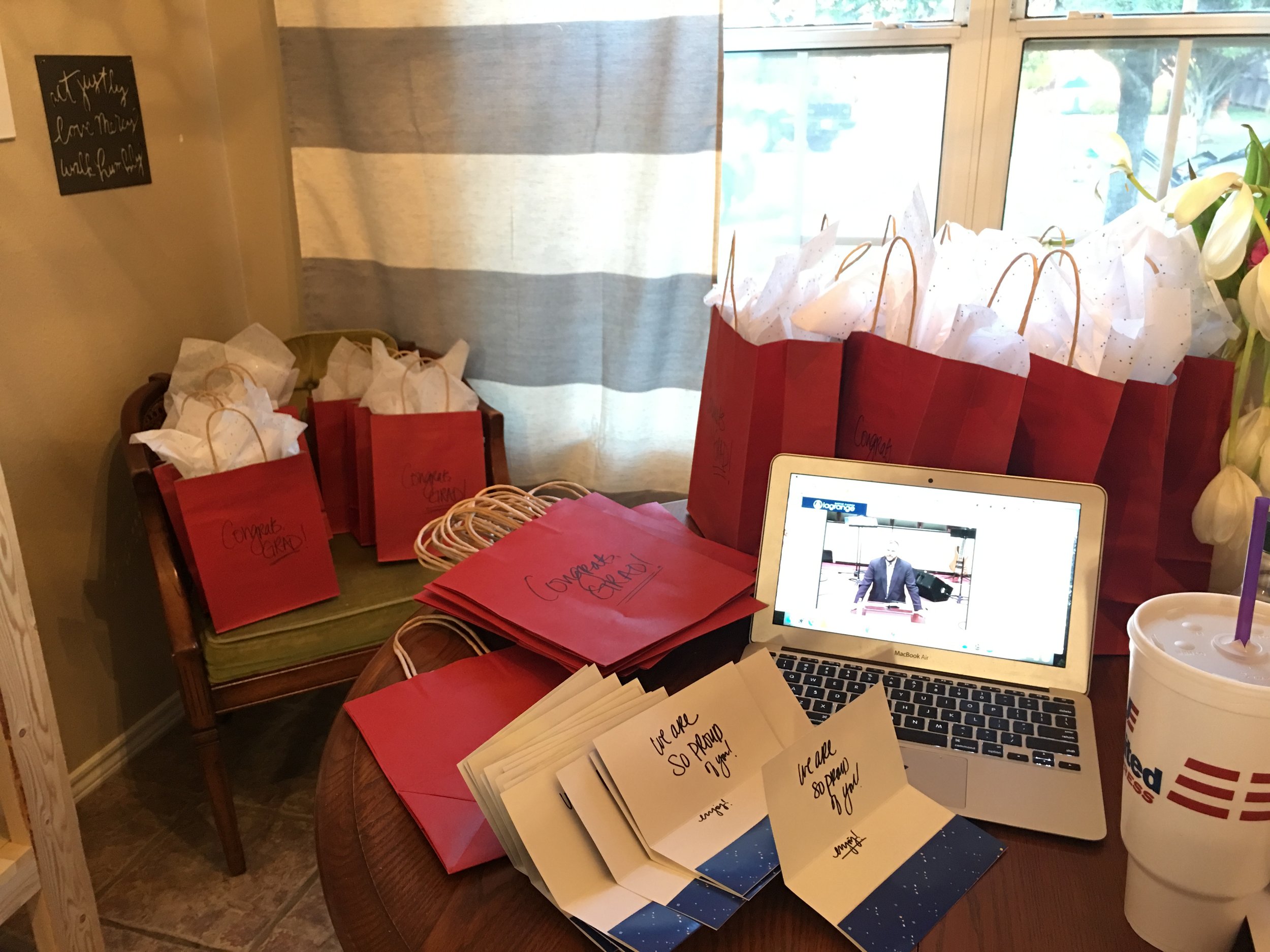 I'm reminded that we have so much opportunity to cheer on the underdog. Our society likes to celebrate the prominent ones. The ones who fit the American dream. Often we end up feeding entitlement and missing some of the brightest minds living in the toughest circumstances just because they don't fit our mold.
I want to change that.
And of course, my heart is that these students would know Jesus. My deepest desire is that they would know His love for them. His plans for their lives. That they do have a hope and a future that was purchased for them on the cross. It's public school and I can't go in there preaching. That's ok. I can go in with the love of Jesus Christ and put tools in the teachers hands to love these students well. So I will. And I can't do it on my own, which is good. I'll continue to be "that girl" and rally the community. I want to use my voice to do things that will last beyond the grave.